GetResponse Review and Comparison
GetResponse is marketed under the slogan "World's Easiest Email Marketing". It certainly is one of the most popular email marketing automation tools in the market. But how does it stack up against the competition? In this Getresponse review, we will touch on the key features, advantages, and weaknesses of the tool. We will also compare it to competitors like AWeber and Mailchimp.
But before anything else, what is GetResponse?
GetResponse is an all-in-one email marketing platform. It has about 350,000 clients in about 182 countries and is available in 21 languages. Its marketing solutions are geared towards entrepreneurs, with the aim of empowerment and business growth. But the company also highlights how their simple-yet-powerful solutions can be scaled and customized to match any organization's size and needs.
In order to deliver the promise of effective and profitable marketing campaigns, the GetResponse platform is equipped with features that give a comprehensive sweep on online marketing.
GetResponse Key Features
GetResponse's suite of services and tools not only covers email marketing but also online marketing campaign. There are about 50 features available on GetResponse that are tailored to industries like e-commerce, education, real estate, affiliate marketing, creative and travel agencies. We'll explore the key features and indicate any sub-features to note.
Email Marketing Getresponse Review :
With the email marketing feature, you can create professional-looking email campaigns. Under this feature are email marketing tools to help design, implement, and schedule email marketing campaigns. These tools include:
Two editor options (drag-and-drop or HTML code editor).
More than 500 customizable, mobile-ready templates.
1,000 free images courtesy of iStock.
Mobile preview and design control.
Dynamic content (smart HTML content).
Autoresponders.
Advanced segmentation.
Perfect Timing & Time Travel features (optimized message delivery).
Analytics dashboard.
A/B testing.
GetResponse Lead Acquisition ( Landing page Builder ):
This feature allows you to instantly create squeeze pages and web forms. Included in this feature are the options to:
Create forms.
Add contacts to a marketing list with single opt-in list import.
Be a part of the GetResponse List Building Program.
Create and customize landing pages (with templates).
List builder apps.
Getresponse Hydra (real-time security and spam monitoring).
Getresponse Marketing Automation :
This relatively new feature is a scalable marketing that combines several email marketing features and tools to deliver a customizable business solution. With Getresponse Marketing Automation you can access the following features:
Drag-and-drop workflow builder.
Scoring and tagging (track, rate, and label subscribers).
Web event tracking.
Cart abandonment.
Automation segmentation.
Other major features of note are:
Design Tools.
List Management.
Mobile Apps.
Advanced Analytics.
Campaign testing.
Global campaign management.
Integrations.
Enterprise solutions.
Webinars.
Multichannel Marketing.
Getresponse Pricing Options :
GetResponse has four types of subscription plans: Email, Pro, Max, and Enterprise. Unlike most, the price range of each of the plans is not solely based on the size of the email list but also of the available features. Take the Email and Pro plans, for example, the minimum size of the email list for the Email plan is 1,000. For the Pro plan, the minimum is 5,000. There is an overlap since the maximum size of the three plans (Email, Pro, and Max) is 100,000.
You also have the option to either pay monthly (you can cancel your subscription anytime) or prepay (enjoy a discounted price). Prepayment options include 12-months (save 18% annually) and 24-months (save 30% every two years).
==>> 30 DAY FREE TRIAL OF GETRESPONSE <<==
Feature Availability in Different Plans
As expected, there are features that you can only access if you avail of the higher plans. For example, your email list size is 100,000 but you only got the Email plan, so you will only have access to basic features of email marketing and marketing automation. These basic features include:
Autoresponders.
Landing pages (Basic, meaning no A/B testing and only limited views).
Workflows.
Also, only one user is allowed in the Email plan. The Pro plan, on the other hand, allows three users. And while the Email plan is recommended for beginners, the Pro plan is recommended for marketers and SMBs that have growth in mind. Therefore, there are more "pro" features available which include:
Autoresponders.
Advanced landing pages.
Workflows.
100 attendees webinar.
Tagging and Scoring.
Abandoned cart.
Web event tracking.
Automation segmentation.
Getresponse also labels the Pro plan as the "most popular" plan. The Max plan, on the other hand, is considered as the "advanced" plan geared for pros that really mean big business. The plan includes all the features available in the Pro plan with the added bonus of these features:
Custom domain.
Campaign consulting.
500 attendees webinar.
Salesforce integration.
There's a limit of up to five users in the Max plan. Lastly, it's possible to have up to ten users on the Enterprise plan. This plan is geared towards businesses that aim for high-performance solutions. These specialized solutions are:
Account manager.
Dedicated infrastructure.
Dedicated IP address.
Max mailout performance.
Deliverability consulting.
GetResponse's Key Selling Points :
Autoresponders :
GetResponse's upgraded autoresponder is one of the best and is certainly its main selling point. It is flexible and user-friendly. Just take a look:
[awsmvid play="0″ hide="0″ skins="9″ size="2″ ]wPtpoybkFSY[/awsmvid]
Getreponse Marketing Automation
Marketing automation used to be a complicated and expensive process. GetResponse marketing automation is user-friendly, customizable, and scalable. This feature, though new for GetResponse just clicks somehow and greatly supplements the autoresponders' function.
[awsmvid play="0″ hide="0″ skins="9″ size="2″ ]ruH8Fcnkdh4[/awsmvid]
Getresponse Analytics :
GetResponse's analytics is one of the most comprehensive among email marketing tools.
[awsmvid play="0″ hide="0″ skins="9″ size="2″ ]MCfatFqCoBs[/awsmvid]
GetResponse Hydra :
Hydra is a unique feature that ensures a quality and high deliverability rate. Compliance with the email industries standards and best practices is a requirement for all GetResponse users. But in the event that there are lapses on the users' part, Hydra will be able to sniff it out. Hydra runs different tests on all incoming and outgoing user-generated data. Some of Hydra's test parameters include bounce rates, complaint rates, subscription sources, and suspicious account behavior patterns.
Getresponse Webinars :
This feature is quite useful, especially that you'll have your email database at the same place. It makes hosting webinars easier and also cost-effective. You don't need to pay for an additional amount as long as you are on the Pro or Max plans.
[awsmvid play="0″ hide="0″ skins="9″ size="2″ ]wYllMzF1zCE[/awsmvid]
GetResponse Weak Points
Even the best and most popular tools have weaknesses. A lot GetResponse's features are actually good but there are still little problems, mostly on usability. Here's some of them:
Not that the free templates are run-of-the-mill, they just somehow lack the "wow factor" sometimes. They have some "stock-photo vibe" that makes it feel like you've seen it several times already – in short, the templates though plenty, looks routine. There's also some issues with the RSS-to-email applications. They don't work well sometimes and there's a limited range available.
Drag-and-drop email editor. It's intuitive but it's not really handy in practice. It can become clunky especially when the workflow starts to crowd out. You can place content at the wrong place – the possibility of accidental deletion then becomes high.
The user interface is getting dated. This mostly refers to aesthetes rather than on functionality. Though not a major issue, it can become noticeable as you use the tool.
You can't just upgrade to a plan when you want to. There are features like 'advanced landing pages' that even beginners can have a lot of uses for. But alas, you can't just pay for it as an add-on (which was actually possible in GetResponse before).
However, adding a langin page builder like WP Profit Builder is More than enough 🙂
Competitor Comparison :
For the last part of this GetResponse review, we will discuss how the tool stacks up with competition. AWeber and MailChimp are two of the most well-known and established email marketing tools. Even if these three tools works on the same premise of email marketing, their price rates, features, and the general structure of their services can vary vastly.
The aim of this comparison is to consider if GetResponse is advantageous to use the other two tools. But the most important question is, is GetResponse the best option?
Pricing :
If you only need the basic features but have a large email list database, GetResponse is suitable for you. GetResponse's pricing is competitive. Though they don't have free plans like Mailchimp, AWeber and GetResponse both have 30-days free trials (and GetResponse doesn't require a credit card). Both AWeber and MailChimp starts from 0-500 subscribers, while GetResponse starts at 1,000. Even so, GetResponse's price ranges are somewhat more flexible.
An email list size of 1,000 costs only $15 in GetResponse's monthly plan. An email list this size will also cost $15 in Mailchimp. With AWeber, on the other hand, it will cost $29. The price gap somehow increases as the email list/subscriber size also increases.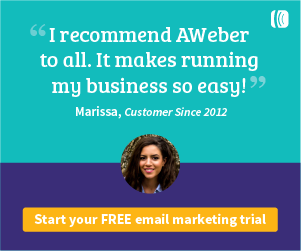 Features :
What would you get for $15 in GetResponse? As mentioned above, it's just the basic Email plan.
As with a free trial, free accounts may get the same features as paid accounts but most of the time, it's the "watered-down" version. This is what happens with Mailchimp's "free forever" account. Even the basic plans have limited features. You need to pay an additional $199 to access essential pro add-ons. AWeber seems to be an exception since all of its features are available regardless of subscriber size or plan. GetResponse's features are certainly the most extensive but you need to qualify for an Enterprise plan to really enjoy "premium features".
What GetResponse lacks though, that is quite handy in these email marketing campaigns are collaboration, stop delivery and predictive demographics. Though GetResponse does have advanced segmentation, the basis for the segments are actions or events and not market-specific data like location or age.
GetResponse is ahead in terms of analytics, A/B testing, and landing pages. GetResponse's email analytics has more features like one-click segmentation, email ROI, metrics over time, etc. AWeber and Mailchimp mostly focus on sales tracking. With A/B testing, GetResponse wins on the number of messages you can test at the same time (five messages). AWeber only allows four, while Mailchimp allows only three on its basic paid plans. Only GetResponse offers the option of responsive landing page creation. Almost all other tools, even AWeber and Mailchimp requires the use of third-party landing page creation tools (for a fee).
==>> 30 DAY FREE TRIAL OF GETRESPONSE <<==
Support
GetResponse is proud to be the first ESP to provide 24/7 live chat. There are 34 agents that will answer your questions. Call support is only during weekdays during work hours but they also have email support in 7 languages. GetResponse claims to have won the hearts of 98% of their customers through their 'five-star' customer success team.
AWeber provides a 7 days-a-week customer support through call, chat or email. Positive reviews praise how their support team educates clients on the process instead of just simply answering questions.
Lastly, Mailchimp offers a comprehensive knowledge base. They encourage customers and prospective customers alike to refer to these articles that can answer their technical support, account access, billing inquiries, etc. They consider contact forms or snail mail as the last resort.
GetResponse FREE TRIAL :
Finally, the 30-day free trial that Getresponse is fully functional – i.e., you can make use of a big list with it – and the offer does not come with a requirement to provide credit card details. This helps you avoid that annoying "oops I forgot I signed up for that trial and now I'm getting charged for a product I don't use" scenario.
==>> FREE TRIAL OF GETRESPONSE <<==
In Conclusion
There are lots of benefits in using GetResponse. Its pitfalls are mostly erring on the side of design and ease of use. Though the design of some tools is intuitive, like the drag-and-drop email editor, a considerable amount of practice is still necessary. This in order for the tool to work smoothly when it really matters – in the creation of newsletter campaigns. There are comprehensive guides, knowledge bases, and excellent support team though if the need arises.
The pricing structure is something of a setback but the price ranges are flexible enough that you don't need to constantly upgrade on another range as your email list size increases. The best approach is to try out the tool for free and see how well it works for you.
==>> FREE TRIAL OF GETRESPONSE <<==
Latest posts by Mustapha Ajermou
(see all)
GetResponse Review
Easy to use - 100%
Pricing - 100%
Features - 99%
Support - 100%
Best Email Marketing Tool